If you have a problem with a bank or other financial institution, contact the Federal Reserve for help.
Consumer Alert

FedNow is live! Click here to learn more about the Federal Reserve's newly launched service that allows financial institutions to get money to its customers faster.
Discover issues consumers are facing regarding crypto-assets in a recent
complaint bulleti
n
published by the CFPB. Also called "virtual currencies", the CFPB has received over 8,300 of these complaints since October 2018. If you've experienced issues with crypto-assets or need more information, click
here
to visit the CFPB's website.
Scammers often use the Federal Reserve to gain access to confidential information. Please note that the Federal Reserve will NEVER call or email consumers or businesses asking for money or personal information. Fraudulent emails about consumer complaints were distributed to banks using the Federal Reserve Consumer Help Center's (FRCH) information (example below). FRCH does not contact banks or businesses directly about consumer complaints. Please refrain from clicking on links or opening attachments if you receive a similar email. Visit the Board of Governor's website for more details on scams using the Federal Reserve's name. The Fraud and Scams section of this website offers tips on recognizing, avoiding, and reporting other types of scams.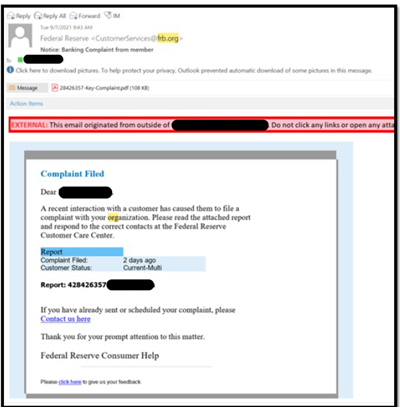 File A Complaint
Not sure where to start? Learn about how to file a complaint about a bank.
Find An Answer
Do you have a specific question? Browse these categories to find answers to frequently asked questions.
Contact Us
Contact a Federal Reserve customer service representative today.
Federal Reserve Consumer Help
Fax: (877) 888-2520
Phone: (888) 851-1920
TTY: 7-1-1 (via a relay service)
Mail: PO Box 1200
Minneapolis, MN 55480